Ever wanted to be in the conversation with Joan and Janet? Now you can!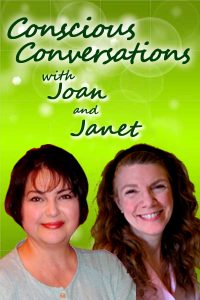 Come join us to play on the playground of Consciousness!  
CONSCIOUS CONFERENCE CALL with Joan and Janet
THURSDAY, February 16th 7pm Pacific,10pm Eastern
Call will be recorded!
Phone lines will open for Q&A!
CLICK HERE TO REGISTER FOR THE CALL & HEAR PAST RECORDINGS!
Questions? Email consciouswithjoanandjanet@gmail.com 
We look forward to sharing the great community you will find here. Invite your friends who are looking for a place to stop and take a breath and feel our oneness. Live the Light! Be Consciousness experiencing, Consciousness evolving.